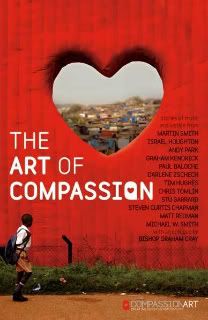 The Art of Compassion
Category: RELIGION
Format: TRADE PAPERBACK
Publish Date: 1/27/2009
Price: $19.99
ISBN: 9780446546874
Pages: 256
Size: 5-1/4" x 8"


About the Book:
There are two amazing forces that exist in the world: Compassion for those in need and Art that helps us see beyond ourselves. THE ART OF COMPASSION brilliantly brings the two together by gathering the top songwriters in Christian music to help raise money for relief and suffering around the planet.

Legendary Christian worship songwriters Steven Curtis Chapman, Michael W. Smith, Chris Tomlin, Darlene Zschech, Israel Houghton, Andy Park, Tim Hughes, and many others have each contributed a chapter reflecting on the poverty people suffer around the world, the art of compassion, and how we can make a difference. Darlene Zschech, best known for her song "Shout to the Lord" which is sung by 25 to 30 million churchgoers each week, gives an apologetic on her personal role and the greater church's role of social justice in her story, "Rise Up, Church!" In "A Visible Gospel" five-time Grammy Award-winning Steven Curtis Chapman humbly shares his family's call to adopt three children and their ongoing ministry to help fund other families' adoptions.


Take A Look:Take a LOOK and a LISTEN!It wasn't too long ago that I pretty much detested Christian music. I shouldn't say I detested it. I just found it rather dull. I had a few artists that I liked back in the day, but for the most part I couldn't relate to it. Fast forward about 20 years...I started to listen to the message and I liked and appreciated what I was hearing. One song that reached me was "Place In This World" by Michael W. Smith. The lyrics to this song deeply touched me. I still really didn't get into Christian music, but I was coming along. :) Michael W. Smith wrote Chapter 1 of this book, The Story of Compassion Art. I was moved. I think you will be too. I will be reviewing this book in total later this week. I hope you come back to check that out too. The stories shared in this book ARE moving. I think this is a view changer.

With great thanks to Valerie from Hachette Book Group, I have the opportunity to share this book with five of my readers, stumblers, contest lovers, and/or new BFFs (I'm a dreamer)! I am thrilled by this and I hope that you are too! So let's get down to business!


If you have entered a giveaway here before, you will probably notice I have a pretty standard way to go and so does Hachette. First, all entries need to be from US or Canadian addresses no P.O. Boxes. Second, this giveaway is beginning today

February 4, and it is ending at Midnight February 19

. The winners will be notified on February 20. Third, if you enter, I need a way to contact you if you win. If your blog has an email address link that I can use to contact you, GREAT! If not, please leave your email address carefully disguised in the usual way (email(dot)address(dot)com). The winners will have two days to get back to me or I will have to chose someone else. This is so I can email your addresses to Hachette in a timely manner.
Well THAT was a lot of blah blah blah!

So how to enter?

1) Leave me a comment saying anything. Ex: You want to win, what you ate for breakfast, or what you think about this season of American Idol. Really the sky is the limit isn't it? (1 entry)
EXTRA Entries:2) Blog this giveaway and come back with the link. (1 entry)
3) No blog? Send someone this way to enter and have them tell me that you sent them. Do that if you have a blog even.(1 entry)
4) Tweet it and come back with the link! (1 entry)
5) If you have a favorite Christian artist, tell me who is is and what your favorite song is OR if you do not have a favorite Christian artist tell me about your favorite charity. (5 Entries) That is right 5 entries.