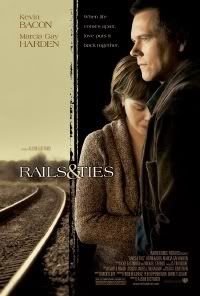 On Friday night my husband and I looked up what we had on the DVR. I randomly record films that catch my eye. The other day Rails & Ties was one of those films. It was directed by Alison Eastwood and stars Kevin Bacon, Marcia Gay Harden and a young boy named Miles Heizer.



The description blurb that came on screen when I hit info was nothing splendid, but Kevin Bacon was in it and that was a huge draw for me. The other draw was my intense curiosity about why I hadn't heard of it before considering it came out in 2007. Was this a direct to DVD film? Anyway the only draw I did have was Marcia Gay Harden. Not because I do not like her as an actress, but because lately her characters all seem to be a bit "undone."



Kevin Bacon portrays a train engineer, Tom Stark, whose wife, Megan (Marcia Gay Harden) is slowly being overcome by cancer. He has disconnected in many ways due to her illness and seems to have pushed himself to the only thing he knows, his life as a train engineer. Tragedy strikes when Stark's train collides with a car and killing a young mother. Though Stark is a by the book engineer, this accident threatens to steal the only career he has loved as life is already setting out to steal away the love of his life.

I am not going to get into more than that. I will say that though this story started off a little slow, it was incredible. My husband and I both were just overwhelmed by the emotion of this story. I am not one who is easily led through a story. It needs to make sense to me. Some things are highly improbable but do happen. The feelings and the love expressed in this film made sense to me. It was stunning in its openness and truth. I simply loved it. My husband was also very moved by this story, and we both were just shocked that we never heard of it.
One of the things I liked most was that I got to see Harden portray a character who was not crazy though certainly her situation was not normal.
My husband and I looked up reviews for this film through Netflix and we were shocked at some of the reviews. One person actually wrote "this is not an action film." My husband and I were like "DUH!" It certainly did not portray itself to be one. I don't even know how someone could read a synopsis of this film and expect an action film. Another viewer said it was implausible, but even the characters acknowledge that in the film. Which brings me to my thoughts of sometimes life is implausible, sometimes things happen that you cannot believe and that are virtually impossible, but the impossible does happen and even if some of the happenings seem far fetched it happens in this film in a good way. :)
If you aren't completely cynical...got check out this film. :)