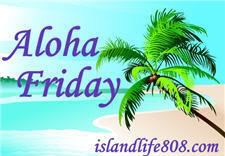 I have to say that I have totally enjoyed browsing the Aloha Friday postings. It would be lovely to feel some lovely island sand between my toes. Since I can't be feeling that Aloha feeling in Hawaii, I thought it might be fun to join in even if it is a bit late. :) So here is a little about Aloha Friday from Kailani at
An Island Life
.
"In Hawaii, Aloha Friday is the day that we take it easy and look forward to the weekend. So I thought that on Fridays I would take it easy on posting, too. Therefore, I'll ask a simple question for you to answer. Nothing that requires a lengthy response. "
You answer her question, and post a question on your blog? So even though it is late in the day...I figured why not? :)
My question: Is there a commercial that just drives you batty? Yep...a real brain teaser here. :)
My answer: I am getting so sick of the Altell commercials. I can say one thing...I know that they are Altell commercials so in one way they are totally getting their brand out there, but I hate the commercials so much, and honestly I still know nothing really about Altell.